Agami Contemporary Sushi
4712 N Broadway St, Chicago, IL 60640
Order now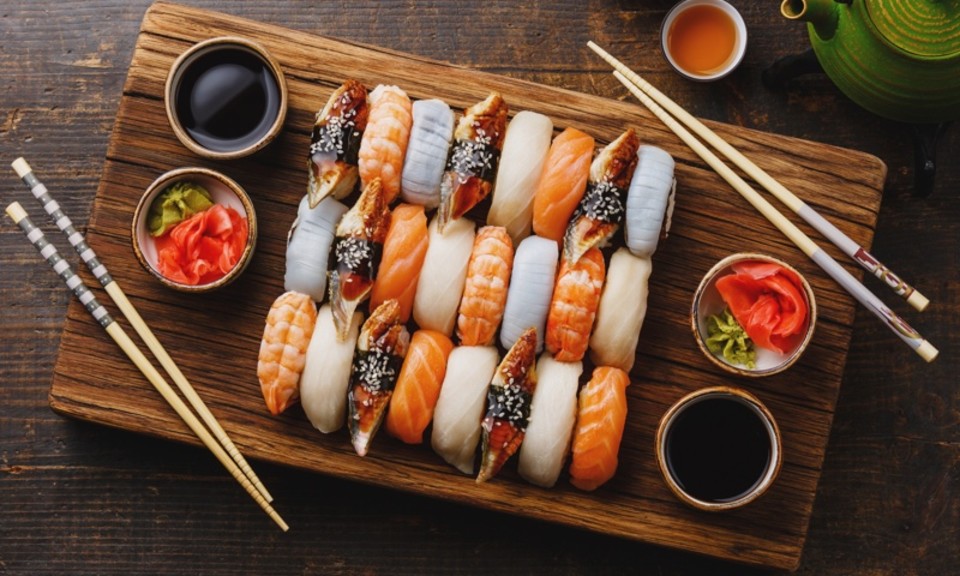 William
Sure there's cheaper sushi out there, but the quality alone makes it worth while. And they're not THAT expensive, I mean if you want cheap sushi go to a freaking all you can eat buffet. I always think it's hilarious when folks complain about the cost of sushi. It's an expensive product with difficult safety and presentation requirements, people. Agami is hands down the nicest sushi restaurant this side of downtown, their togo service is convenient, and the service in house is amazing. Plus they have daily specials on food and alcohol for those fortunate enough to dine in. Uptown could use more places like this.
Tricia
Amazing Sushi! My absolute favorite place for sashimi or fun rolls in the city. The fish is always wonderfully fresh and flavorful and nicely cut. The Agami Signature roll and the Turtle roll are both excellent. The house salad has some of the best ginger dressing that I have had. Delivery in a very reasonable amount of time for what we ordered. Great restaurant to visit as well. The ambiance and drinks are great. So glad they are finally on GrubHub!
Harlan
Great, fresh sushi...wish they had futo maki. Now a-days sushi restaurants are making Americanized rolls and don't make the traditional rolls which I love. Perhaps people just don't order them?! Anyway, great sushi and the prices reflect the high quality...you get what you pay for. Sushi is not a food item to skimp on.
David
A little bit pricy, but they make up for it by the quality of the fish. Some of the best quality seafood I've ever had in Chicago, by taste and freshness. I highly recommend the chirashi to get a clear sampling of their fish, and their excellent selection of nigiri/sashimi is great to try individual types.
Samuel
Sushi was absolutely delicious! One minor thing happened with the order but they fixed it up so fast, great customer service! When they say spicy roll, they are not kidding. Can't wait to try some of the non sushi items.
Katie
My husband and I just recently moved to Lakeview East, and we have a tradition of ordering takeout sushi in each new place we live. This place is amazing. We ordered miso soup, an avocado roll and a fire special roll. Delivery was fast, everything was delicious, and the fish was so fresh. We ordered food from here for a second time tonight and tried the spicy tuna rice crispy appetizer, a cucumber roll, and the fire special roll, and we were equally impressed. This will definitely become our go-to place for sushi delivery!
Sarah
Great service experience. The app over charged me but they promptly refunded my money and was genuinely nice about it. The food came beautifully presented including my soy sauce being perfectly taped to one box so it wouldn't spill. Most importantly, great rolls. My favorites are sweet potato tempura and Philly.
Amy
Very fresh fish and high quality food. A little pricey but completely worth the splurge.
angela
Amazing sushi, quick delivery....AND WINE!
About us
Asian, Dinner, Japanese, Sushi
Today

Delivery: 4:00 PM - 11:00 PM

Takeout: 4:30 PM - 11:00 PM

Delivery

Monday:

4:00 PM - 10:00 PM

Tuesday:

4:00 PM - 10:00 PM

Wednesday:

4:00 PM - 10:00 PM

Thursday:

4:00 PM - 10:00 PM

Friday:

4:00 PM - 11:00 PM

Saturday:

4:00 PM - 11:00 PM

Sunday:

4:00 PM - 10:00 PM

Takeout

Monday:

4:30 PM - 10:00 PM

Tuesday:

4:30 PM - 10:00 PM

Wednesday:

4:30 PM - 10:00 PM

Thursday:

4:30 PM - 10:00 PM

Friday:

4:30 PM - 11:00 PM

Saturday:

4:30 PM - 11:00 PM

Sunday:

4:30 PM - 11:00 PM
Agami features amazingly fresh sushi, inventive rolls, friendly service in a great atmosphere!